Ash Creek Reservoir in Utah Has Full Flooding Galore (Pics)
Flood watch continues in southern Utah as the thunderstorms continued this week. All of the Snow on the mountains is coming down and it's making our water ways expand and flood. I took a drive to Mesquite this weekend and saw the Virgin River is raging down stream.
The Sevier River has been on flood watch for almost a month. Ash Creek Reservoir, that usually is released to flow down Ash Creek Stream, is beyond full and has breached it's banks by a long shot. The road off of exit 36 on I-15 has been closed for over a month with a detour going back through the neighborhood because the water has overtaken the road.
It is hard to tell unless you've looked at the reservoir before but, the trees are usually feet in the air before the leaves start. Now the leaves are sitting at water level. The water is not just expanding and flooding but it is still incredibly high as well.
As I sat taking pics, I really looked at the beauty of nature. All of the colors look amazing. 
This one shows how the road actually disappears. And Check out that tree just sitting on the water.
Here is a closer look. The reflection and colors are just awesome! We also have new visitors that are LOVING all the water.
There are way more ducks and wild turkeys than usual in this part of New Harmony.
This is taken from the bridge, looking east, that is usually dry or a very little stream. Just so much water. It's still moving so not a lot of extra bugs......yet.
And here is the view looking west from the same bridge. Again those tree leaves are usually not that close to the water. 
This area straight up looks like a swamp. This is normally where residents enter the dry creek bed to use their ATV's. 
One more photo so show the color and reflection cause I think it's purty. ;)
So be safe and steer clear of flooded areas to travel on. If you have any awesome pics you would like to share, just email them to me @ aaronee@townsquaremedia.com
This is so cool. A 79 year old Tik Tok star that lives right here in Utah. Her name is Sharon Barber and she is a student at Weber State University. I love reading and finding out about really cool Utahn's. ♥
How did Barber score millions of followers on Tik Tok? All she does is document her life as a student at 79 years old. You can find her on Tik Tok @grandmagreat. You should totally follow her, she gives great life advice! Barber took a 40 year break to work and have a family. She is earning an associates degree now and plans on earning a bachelors degree in creative writing.
In an interview with 2KUTV Barber said, "I'm a nontraditional student in every sense of the word. When I first started classes, I was kind of an anomaly. I got a few strange looks. But I decided I'm going to go in there like any other student, with a positive attitude. Now I'm feeling like I'm in my element."
College at 79 years old is an incredible example of never quitting and continuing to learn and find things you want to do. After not going to school for 40+ years it could be really hard or it could be refreshing to start when you actually want to go. Barber said it was hard but there are so many people helping her on her way.
How did Barber decide to do Tik Tok? With help from her daughter. In the interview with 2KUTV she said, "My daughter said, 'Mom, you would be so good at TikTok. You love people, you're funny, you're spontaneous, you're likable, people love you. Why don't we do a TikTok?' And I said OK, and I created my platform," Barber said.
For more on the interview check it out here:2KUTV
I just learned this hack and it is gonna save so much time and my poor little fingers. Cut time on the side dishes and have more time to focus on the marinating meat. yum!
Potato Salad Hack!!!
My family loves potato salad. Potato salad shows up at all of our Utah family reunions and all of our family and neighborhood BBQ's. (My aunt Judy makes us a separate onion free potato salad every year. Now that's love ♥ ) The worst part is shelling the eggs. I have tried every trick possible to get those shells off. 
Vinegar or baking soda in the water, hot water to cold shock in an ice bath, and the list goes on. In our recipe we use a lot of eggs. It makes it so delicious. So what if I told you that you don't need to shell ANY eggs for your potato salad ever again???? That would make my year. Every time I have to peal a lot of eggs the tips of my fingers get a little raw and sore. Those shells can be sharp and painful.
I kind of feel like I am doing one of those infomercials where everything is exaggerated and falling apart.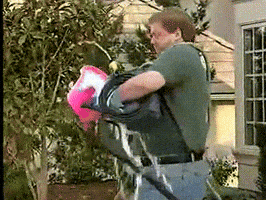 So here's what you do to get a ton of eggs done for your potato salad. Spray a heat proof glass bowl with cooking spray of choice. You crack your eggs into the glass bowl. Crack as many eggs into the bowl as you need for the amount of potato salad you are making.
Heat up a pot of water until it is boiling. Make sure the pot is big enough to hold the glass bowl of eggs. Once it is boiling put the glass bowl of eggs floating in the water and cover with a lid. You cook it the same amount of time as regular boiled eggs, so about 12 minutes. Unless you have an instapot then it is 5 minutes. Then you have a gorgeous egg loaf that you do not have to peel! Yay! You just let it cool and slide it out of the bowl, then chop it up. You can see the recipe and ideas here: No Shell Eggs
It is already heating up and cooking over the stove is getting a little toasty. Now is the season for crock pots. Not only does cooking with a crock pot not heat up your house, but it can fill your house with delicious smelling dinner while you are at work!  One of the best hacks for summer meals is to cook up enough meat for the week or longer.
BBQ Pork
You can double batch some BBQ pork and freeze half of it for later. BBQ Pork can be used for tacos, salads, sandwiches and to put on top of some roasted potatoes and carrots. It is a great staple for summer meals. Here is a good recipe to get you started. BBQ Pork Recipe
Chili is another great meal for the crock pot. I make enough to have it on hotdogs and backed potatoes and just spread those meals out so that it doesn't feel like too much of a good thing. I like some spice in my chili so here is my recipe:
Aaronee's Crock Pot Chili-
2 tablespoons of olive oil to caramelize onions and bell peppers
1/2 onion caramelized
2 lbs. of browned hamburger
1/2 green 1/2 red bell peppers diced & caramelized
2-3 jalapeños
Full clove of minced garlic (l love garlic)
1 drained and rinsed can of pinto beans
1 drained and rinsed can of black beans
1 drained and rinsed can of northern white beans
I 16oz. can of tomato paste
1 1/2 water
2 tablespoons of your favorite taco seasoning
salt to taste
Throw everything in the crock pot on low for 3-5 hours for flavors to melt together into a delicious pot of goodness.  Top with sour cream, cheese, scallions, cilantro and serve with cornbread or corn chips.
Chicken Broccoli Casserole-
I absolutely love chicken broccoli casserole and in the summer I just don't want to heat up my oven for anything. Because of the heat I was missing out on this creamy, cheesy, delicious meal. So I decided to look up how I could get this done in a crock pot while I'm at work. This is a great fill in recipe for your crock pot: Creamy Chicken & Broccoli
If you have any amazing recipes that I need to add to my meal rotation for summer, let me know! Email me here @Aaronee
More From KDXU 890 & 92.5