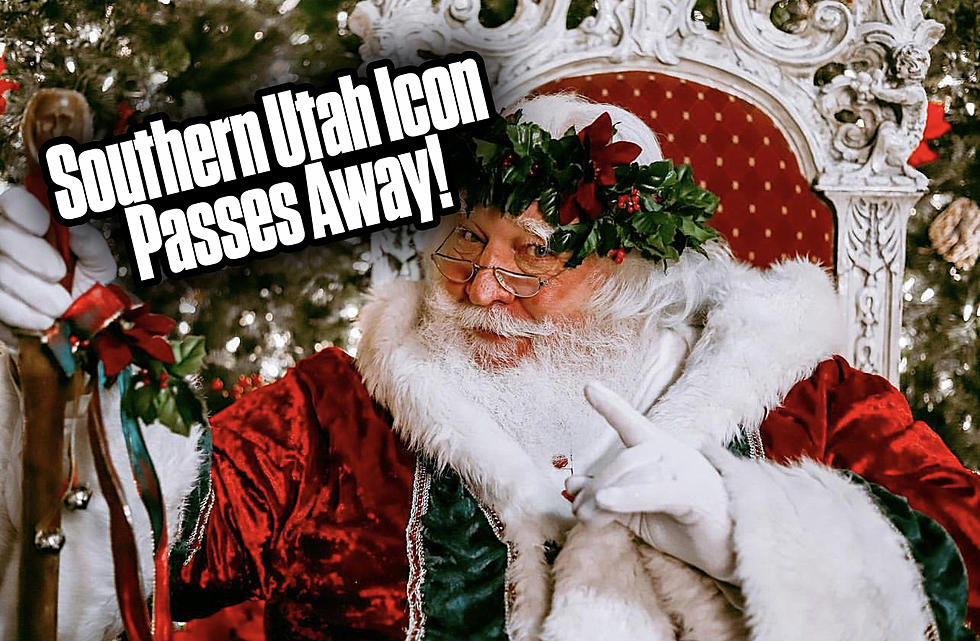 A Southern Utah Icon Has Passed Away
Dicken's Christmas Festival
A Southern Utah icon has passed away at the age of 74. You probably recognize his face, but maybe you don't know his REAL NAME.
Tom Packer.
Chances are... He's probably put a smile on your kids faces, and even yours too! Tom was the Santa Claus at the Dicken's Christmas Festival that happens every year at The Dixie Center in November. Many believed Tom was the REAL Santa Claus, and that is yet to be determined.
But, maybe you know Tom from somewhere else. Maybe he was a neighbor, a friend, or your teacher or counselor at Dixie Middle School. That's where I first met Tom.
Or maybe... You drove behind him in his red convertible with the license plate that reads TheSled!
This man was LARGER THAN LIFE and truly a Southern Utah Icon.
Tom was such a good Santa Claus that I didn't even know the Dicken's Festival Santa WAS Tom!
Tom's Viewing will be held Thursday, May 25th from 5-7pm ash the Pioneer Parkway Chapel. Tom's Funeral Service will be the following day, Friday, May 26th at 11am at the Pioneer Parkway Chapel in Santa Clara. 3680 Pioneer Parkway.
in leu of flowers or gifts, the family is asking that you donate to the Primary Children's Hospital.
Southern Utah: Cheap Summer Getaway Your Family Will LOVE!
CASABLANCA BABY! Right down the rode in Mesquite, Nevada!
I was at the Casablanca pool on Sunday this week (Where I got ABSOLUTELY FRIED!), and I realized: THIS WOULD BE SUCH A FUN FAMILY GETAWAY! 
Here's why:
1. THE POOL! 
Your kids will love this pool! It's NOT ice cold, it's really nice with how hot it is outside. A waterfall, and a slide! Plus, there's even a 24-Hour hot tub! Don't forget about the Splash Bar where you can get alcoholic, and non-alcoholic drinks! I had an AWESOME Virgin Pina Colada! You can even rent a cabana with a tv if you have a little one that you want to keep out of the sun for nap time!
2. The Buffet!
I did the Breakfast Buffet (I'm a sucker for a buffet, but a breakfast buffet EVEN MORE!) I loved it! Only $12.99!
3. The Casa Cafe!
It's open until like... 3am, and not crazy expensive! Breakfast, Lunch, Dinner, and even Chinese food! Something for EVERYONE!
4. Scoops Ice Cream open 24/7!
Maybe your kid wants an ice cream cone at 2am, I don't suggest it... But HEY! You can do it!
5. MORE CHEAP FOOD!
$0.75 hot dogs! you can't beat a $0.75 hot dog! Plus, they're good! Even Uno Express pizza there too for under $6.00!
6. Gambling!
Go win some money, baby! Have the kids watch a movie in the room, and you go win a couple hundred bucks!
7. Massages!
Your girl needs a massage! Trust me on this one! Book her a massage, and you go to the pool or gamble, or even golf!
8. Mesquite is SO CLOSE!
This will feel like a vacation, and you're still 30 minutes the Utah Border!
9. Rooms are CHEAP! 
If you go on the weekdays, rooms are CONSIDERABLY cheaper! $69 rooms on the weekdays, $105 rooms on the weekends! But you gotta book ahead!
LOVE THIS: Southern Utah's FIRST & ONLY Inflatable Water Park!
There's a NEW and FUN thing going on at Quail Creek Reservoir and your kids are going to go BANANAS for it!
St. George Aqua Adventures has brought THIS to Quail and I'm about to go have the time of my life out there!
They're open 7 days a week from 9am-9pm! There's trampolines, slides, swings, jungle gyms, and even obstacle courses... ALL IN THE LAKE! This is a first for Southern Utah!
Their prices are TOTALLY reasonable too!
Ages 6-10: $12 for the 1st hour, and $6 for each additional hour.
Ages 11+ $20 for the 1st hour, and $10 for each additional hour.
People online are LOVING this! Here are some comments:
Kesia: "Yay! This looks so fun. Can't wait to take my kids."
Mikey: "Yes!! It's finally in the water!"
Betty: "This would be fun with the kids!
Appointments or reservations are NOT necessary! You can just show up and have fun!
There's even lifeguards there, but NEVER depend on lifeguards to babysit your kids. You should always be there with them.
I, for one, know that I'm going to be out there this summer on that swing, bouncing off those trampolines! This sounds like so much fun, I'm really happy we have this here in Southern Utah!
If you've been out there let us know on Facebook at Cat Country Utah what you thought about it! Was it awesome? Did you get any awesome pictures? Did your kids love it?
Southern Utah Tips & Tricks With DJ: Cheap Car Rentals!
At one point or another in your life, you've probably needed to rent a car, right? But it can be SO EXPENSIVE! What looks cheap, can EASILY turn expensive and hundreds of dollars a day for a car!
You know what's even worse? Flying into a city and THERE'S NO CARS LEFT TO RENT! What do you do?!
I GOT YOU COVERED!
UHAUL!
Now here me out... Nobody wants to drive a big storage truck around, but what if it was a fraction of the cost of a car rental? I'm talking... AT LEAST half the price! If you wanted a tiny little car for a week, that could run you $250, minimum! But renting a UHAUL truck would be a fraction of that!
UHAUL rents their trucks at $20 a day! TWENTY BUCKS! YOU CAN'T BEAT THAT!
A friend of mine, Brayden Phillips, used to work for Enterprise Rent-A-Car and he's even used this hack before in his own life. "Sometime's we run out of cars and people don't know what to do! I tell them to go rent a UHAUL for $20 a day!"
Phillips recalls a time where he passed that advice on to a man who flew into town for a softball tournament. "After the tournament was over, he told me what a great idea it was to rent the UHAUL. Him and his buddies piled in the back between games, and had a place to hang out!"
ALSO... You only have to be 18 years old to rent a UHAUL, instead of 25 for most car rental companies. That's BIG!
More From KDXU 890 & 92.5