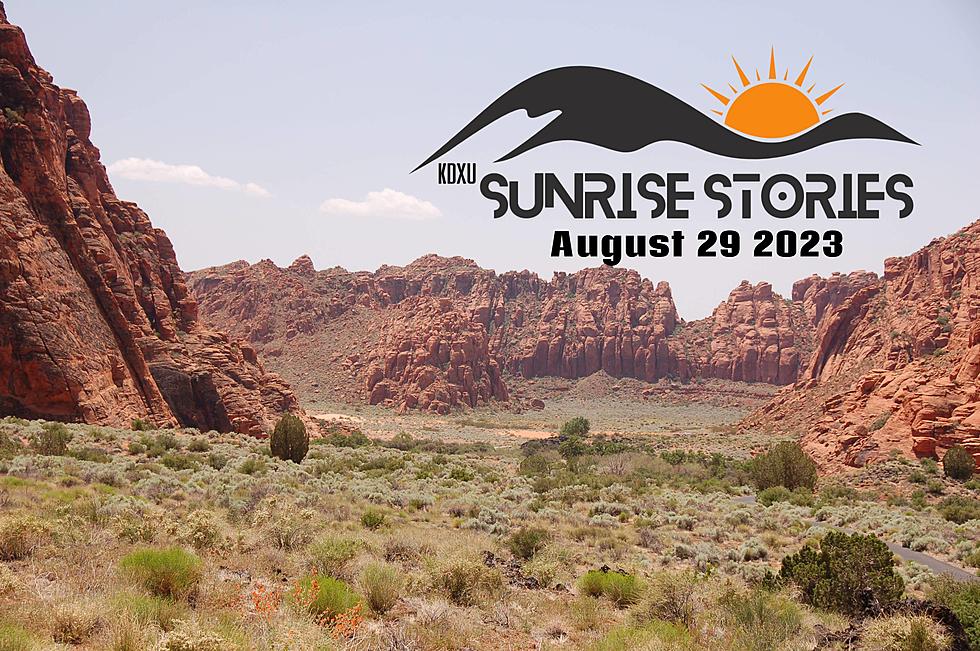 KDXU Sunrise Stories for August 29, 2023: A Southern Utah Shooting, "Disagree Better," and Peach Days 2023
Photo by Devon Boulden on Unsplash. Logo by Stockton Myers and Brynlee Wade.
KDXU Sunrise Stories: Volume 42
Statewide News – 08/29/23
Governor Cox Says "Disagree Better"
Utah Governor Spencer Cox is starting an initiative to "disagree better" before a possibly rough 2024 presidential election.
Gov. Cox posted a video online explaining this new initiative and said a "healthy disagreement" is about staying true to the principles we believe in while not attacking somebody we may disagree with.
Gov. Cox said, "Listening to debate is a powerful tool." Cox also said this initiative has the goal of helping the U.S. "bridge the partisan divide" when talking about politics in daily conversations.
Utah Influencer Pleads Guilty to Assault
A social media influencer from Utah has pleaded guilty to charges of aggravated assault.
Taylor Paul was arrested in February 2023 after she reportedly hit her boyfriend multiple times with various objects including metal chairs.
Paul harmed her own child unintentionally in the chaos with child abuse charges being issued but have since been dismissed.
Despite the charges, Paul continues to post on TikTok to over four million followers.
Utah Takes 21st for Confrontational Drivers
According to a new study by Forbes Advisor Report, Utah ranks 21st in the U.S. for confrontational drivers.
The study said 15% of Utah residents have experienced the act of somebody getting out of a vehicle to yell at them.
10% of Utah residents experience road rage at a frequent rate.
The study said some of the top reasons for road rage include heavy traffic, feeling stressed, and running late for something.
Southern Utah/St. George News – 08/29/23
Colorado Man Facing Murder Charge in Southern Utah
A man from Colorado is facing a charge for murder after an altercation led to the shooting of a man in Southern Utah.
The San Juan County Sheriff's Office said they responded to a report in Monticello on August 27 where a Colorado man shot at the victim over a dozen times with only a few bullets hitting the mark.
The victim allegedly threatened the man's family and lunged at him with a pitchfork.
The man was taken to the San Juan County Jail with no word on when he will appear in court.
Burger King "Flame Broiled" in Washington
A fire broke out at a Burger King restaurant in Washington City in the afternoon of August 28.
Drivers on Red Cliffs Drive could see a column of smoke rising from the building with visible flames coming from the roof.
The fire reportedly started in the building's hood ventilation system, travelling through the ductwork, and leading up to the roof.
No workers or customers were injured, and firefighters managed to extinguish the flames 25 minutes after arriving at the scene.
Peach Days 2023 this Weekend
The annual Peach Days event in Hurricane will take place from August 31 to September 2.
If you've never experienced Peach Days before, think of it as the Hurricane version of a county fair. It's meant to celebrate the heritage of the city of Hurricane when they were known for growing peaches.
Food stalls, entertainment from live bands, rodeos, and a peach dish cook-off are just some of the attractions you can expect.
You can find a full list of the festivities here.
Other
Fun fact about Stockton Myers, the writer of Sunrise Stories.
Stockton went to his first Peach Days last year. Yeah, he's been a resident of Southern Utah for over 25 years, and he has only been there once. Shameful. That being said, he absolutely LOVED the food stalls and also saw his sister perform in a production of The Little Mermaid, which was from Hurricane Theatrical.
Did we miss something? Let us know by connecting with us on the 890 KDXU Facebook page! We'd love to hear from you. Scouts honor.
Happy Tuesday!
More From KDXU 890 & 92.5