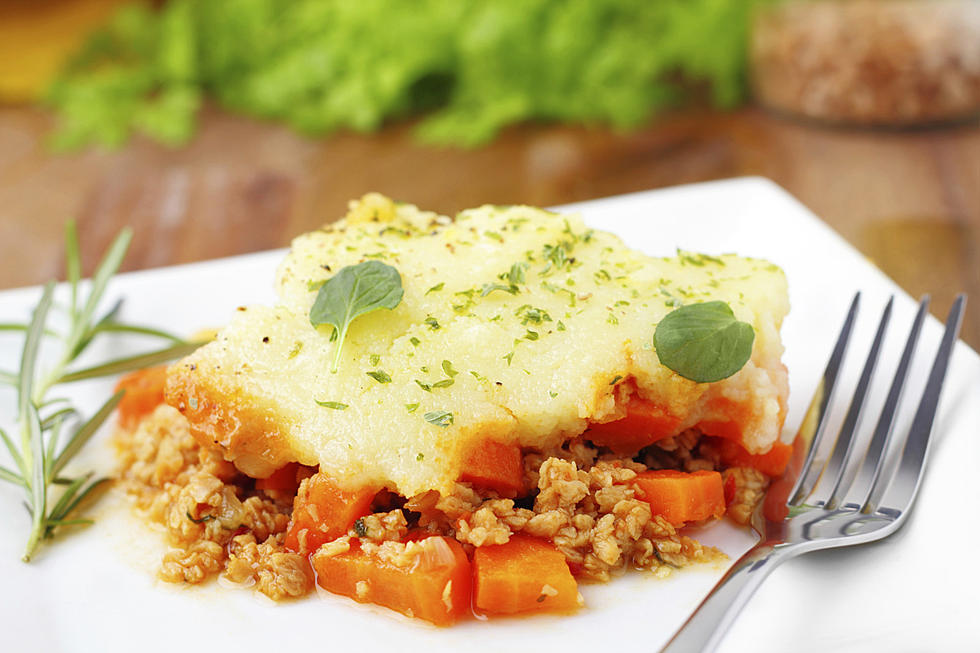 Delish Thursday: Cottage Pie Recipe For An Authentic St. Patty's Day
vertmedia
Top o' the mornin' to ya!
I'm glad to say that I have a wee bit of Irish in my DNA and my family and I enjoy celebrating St. Patrick's Day!
We always wear green, have a family gold coin hunt (because those sneaky Leprechauns leave them all over our yard), have Lucky Charms for breakfast and celebrate dinner with Cottage Pie.
Most people make Cottage Pie, but incorrectly refer to it as Shepherd's Pie. Cottage Pie is the more common dish to make. The difference between Cottage Pie and Shepherd's Pie comes down to what type of meat is used. Cottage Pie recipes call for lean ground beef as its base and beef broth as its gravy, whereas Shepherd's Pie uses ground lamb and the juices from the meat become the gravy. Both dishes are covered with a thinly sliced or mashed potato topping.
These dishes originated in Scotland and then became popular in England and Ireland although the Irish were the first to start using potatoes instead of a pastry topping for the recipe.
Shepherd's Pie has become a staple for St. Patrick's Day dinner tables. We prefer the taste of the ground beef to lamb, so Cottage Pie is the pie of choice for our St. Patrick's Day dinner table!!
But either dish is delicious, and we aren't talking a load of Blarney!
St. Patrick's Cottage Pie
Ingredients:
For meat and gravy:
2 Tbsp. olive oil
3 cloves of garlic, minced
1 medium onion, finely diced
1 to 2 carrots, peeled and diced (about 1 cup)
2 ribs celery, finely chopped
2 lbs. ground beef
1/3 cup flour
1 small can tomato paste
3 cups beef broth
1 beef bouillon cube, crumbled
3 Tbsp. Worcestershire sauce
1 1/2 tsp. dried thyme
2 bay leaves
1 tsp. salt
3/4 tsp. black pepper
For Topping:
3 lbs. potatoes, peeled and cut into cubes
3/4 cup milk
4 Tbsp. butter
For the Parmesan crust (Optional):
3 Tbsp. butter, melted
2 Tbsp. parmesan, grated
Meat mixture:
Heat oil in a large skillet over medium high heat. Add onion and garlic and cook for 1 minute. Add carrots and celery. Cook for 5 minutes until softened. Turn heat up to high and add ground beef. Cook, breaking up the meat until browned. Drain off the fat and then add flour and mix well. Stir in tomato paste, broth, bouillon cube, Worcestershire sauce, thyme, bay leaves, salt and pepper. Bring mixture to a simmer then turn down heat to medium high. Cook for 30 minutes, stirring occasionally. After 30 minutes it should turn to gravy consistency, if not, continue cooking until it becomes gravy consistency. Transfer meat mixture to a 9"x13" baking dish. Let mixture cool while you prepare the potatoes (see note).
Potato topping:
Cook the potatoes in boiling, salted water for 15 minutes until fork tender. Turn off heat and drain and return potatoes to pot. Allow potatoes to steam dry for 1 minute. Add butter and mash until butter is melted. Add milk and add salt to taste. Mash until smooth.
Assembling the pie:
Spoon potatoes over meat mixture. Sprinkle with parmesan and drizzle with melted butter.
Bake at 350 degrees F for 30 minutes or until golden colored on top.
Note:
It is important to cool the meat mixture before adding the potatoes. You can put the mixture into the freezer while you prepare the potatoes, or you can even make the meat mixture the night before and refrigerate it until you begin making the potato topping.
Delish Thursday is a KDXU weekly feature written by local St. George culinary expert Laura Squires. Laura doesn't have a restaurant or bakery, but if you've ever tasted her food, you know that she is one of the best food artists in the world! Laura has been a resident of Southern Utah for  more than 30 years.
LOOK: Food and Personal Care Shortages We Could See In 2023
Learn about the 13 potential shortages that could impact stores in 2023, from produce and meat to snacks and beverages.
More From KDXU 890 & 92.5