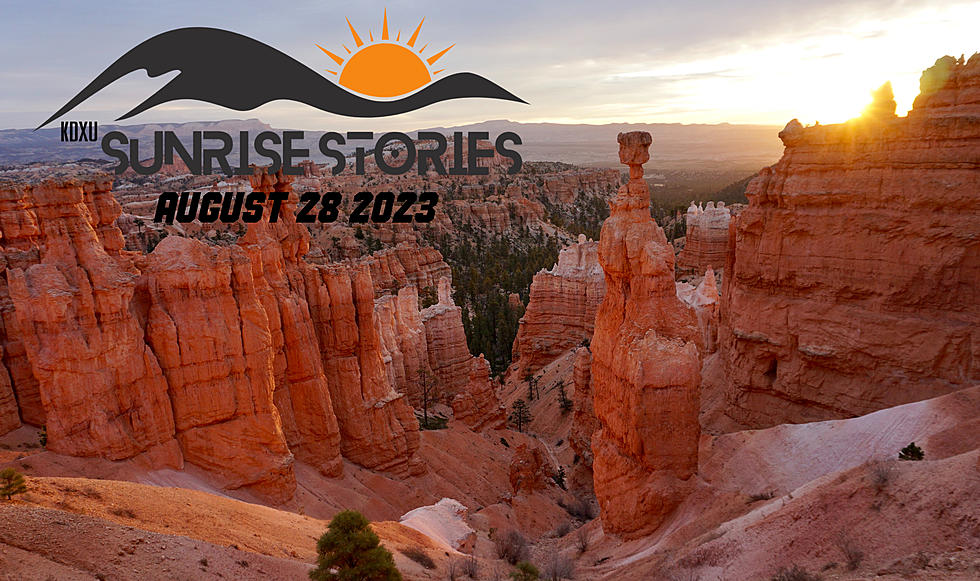 KDXU Sunrise Stories for August 28, 2023: Arizona Hiker Found Dead, A Nightclub Raid, and The St. George Marathon
Photo by Tim Golder on Unsplash. Logo from Stockton Myers and Brynlee Wade.
KDXU Sunrise Stories: Volume 41 
Statewide News – 08/28/23 
Search Continues for Missing Salt Lake Teen 
Authorities in Northern Utah continue the search for 15-year-old Paightyn Jones. 
Paightyn was last seen in the downtown area of Salt Lake City on the evening of August 25. She was in the area to receive medical treatment. 
A security camera at a local Walmart caught sight of her on August 27, and authorities believe she may be in the Sugar House neighborhood.  
Reports said she is 5'6, weighing 105 lbs., and has a heart tattoo on her left cheek. Paightyn reportedly doesn't have her medication with her, and anyone with info should contact authorities at their earliest convenience.  
Nightclub Raid Leads to Seizure of Drugs and Guns 
Police in Salt Lake City raided the New Yorker nightclub, finding drugs and guns on the club. 
The raid occurred on August 26 after an investigation that began in June.  
Four guns, cocaine, cash, and over 100 bottles of alcohol were found in the raid. 
Two people were arrested in connection with the raid and were reportedly planning to distribute the firearms found on the scene. 
Surplus of Mercury Found in Utah Fish 
Environmental officials have reported findings of fish with high levels of mercury in Utah. 
The Department of Environmental Quality said two lakes and four reservoirs have been added to Utah's Mercury Fish Consumption Advisory List.  
Officials warn the consumption of mercury can lead to negative effects for young children and those who are pregnant.  
Consumption of mercury can lead to neurological complications for young children and developing fetuses. 
Southern Utah/St. George News – 08/28/23 
Arizona Woman Found Dead in Bryce Canyon 
64-year-old Jeanne Howell from Arizona has been found dead in Bryce Canyon National Park after being reported missing. 
The Utah Department of Public Safety and Garfield County Sheriff's Office found the woman early on August 26.  
Park officials described it as a tragic event, and noted the flash flooding in the area may have been a contributing factor to Howell's passing. 
Fire Near Red Rock Apartments in St. George 
A brush fire broke out on a walking trail near Red Rock Apartments in St. George 
The fire was found in the late hours of August 27, and was inching closer to a clubhouse in the area.  
Fire crews managed to contain the blaze around midnight and no injuries or structure damage have been reported. 
St. George Marathon Details 
The St. George Marathon has over 8,000 participants for its 2023 event. 
Registration for the full and half marathon are completely full, but the other categories like the 5K and the Mayor's Walk are still accepting participants until August 31. 
Keep in mind you'll have to pay a late fee if you want to participate. 
The St. George Marathon will take place on October 7 at 6:30 a.m. with live coverage coming from KDXU.  
Other 
Fun fact about Stockton Myers, the writer of Sunrise Stories. 
Stockton loves cooking shows. Specifically cooking shows that have some sort of wacky competitive element.  
Think shows like Cutthroat Kitchen and Chopped. Iron Chef America is also another favorite of his. He loves these kinds of shows because he can do work while watching, but not be bored.  
One week away from Labor Day! Hope you're having a great start to your week. 
Happy Monday! 
More From KDXU 890 & 92.5